Colorbond Aquaplate Steel Tanks
Colorbond Aquaplate Steel Tanksv® Aquaplate® Steel Rainwater Tanks not only look amazing they are great value for money. Made from traditional zinc coated steel these tanks are finished in genuine Colorbond®. A poly lining is heat pressed to the metal before being manufactured into a rainwater tank. This lining not only protects the tank from rust but conforms to Australian standards for storage of potable water.
Stainless Steel Tanks
Stainless Steel Water Tanks are becoming increasingly popular as they leave the smallest environmental footprint. They are also unsurpassed for strength, durability and hygiene. Made from Grade 304 Stainless Steel these tanks are uniquely constructed to outlast any tank on the market.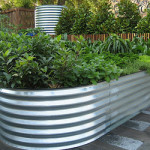 Garden Beds
Corrugated steel raised gardening beds are an elegant and simple solution for your garden.
Our garden beds are made to measure, so you can have the perfect size and colour.
Water Pumps
We carry an extensive range of pumps to suit any installation or purpose. We proudly use and recommend quality Australian-made Davey pumps.